Fire Door Technical Information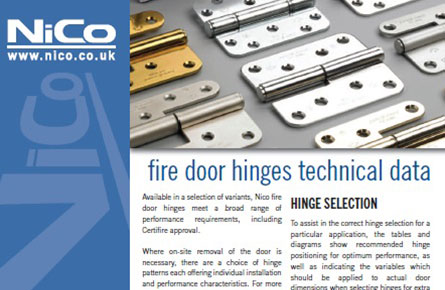 Click the button below to download a PDF of this page:
Technical Data
Available in a selection of variants, Nico fire door hinges meet a broad range of performance requirements, including Certifire approval.
Where on-site removal of the door is necessary, there are a choice of 5 hinge patterns each offering individual installation and performance characteristics. For more secure applications, the 4815 fixed pin hinges with dual bearings are available – with radius corners for machine preparation or square corners for on-site installation.
Incorporating low-friction bearings to assist in the ease of door operation, Loadpro is the recommended choice for high efficiency specifications where conformity with the door opening resistance criteria of DDA (Disability Discrimination Act) is paramount.
Nico's range of steel and stainless steel hinges can also be used for fire resistance applications with adjusted door weights of 60 to 120kg. While requiring periodic lubrication to maintain maximum efficiency, the hinges offer a low cost solution to minimum fire door requirements, making them ideal for domestic, social housing and light commercial projects.
Hinge Selection
To assist in the correct hinge selection for a particular application, the tables and diagrams show recommended hinge positioning for optimum performance, as well as indicating the variables which should be applied to actual door dimensions when selecting hinges for extra high or wide doors, or when used in conjunction with standard or back-check door closers.
Determine weight of the door including hardware
Make adjustment for width of door (see Table 1)
Make adjustment for type of door closer (see Table 2)
Calculate adjusted weight; select hinge (see Table 3)
Intumescent Selection
All fire tests on Nico hinges were carried out using 'Interdens' intumescent pads, which are made from mono ammonium phosphate in a glass fibre carrier.
To comply with the fire test certification all Nico fire hinges should be fitted with the same amount and type of intumescent material that was used during fire testing. As detailed below.
Using a different type or thickness of intumescent material than that used during testing could invalidate the test evidence for that hinge and therefore potentially the whole doorset.
Table 1
| Door Height | Door Width | Adjustment |
| --- | --- | --- |
| 2000mm | Up to 1000mm | None |
| 2000mm | Up to 1050mm | +10% |
| 2000mm | Up to 1100mm | +18% |
| 2000mm | Up to 1150mm | +26% |
| 2000mm | Up to 1200mm | +33% |
| 2000mm | Up to 1250mm | +40% |
Table 2
| Closer | Adjustment |
| --- | --- |
| Standard Closer Fitted | +20% |
| Back-Check Closer Fitted | +75% |
Table 3
Hinge
Grade
Max. Adjusted Door
Weight: 3 Hinges
4515
7
40kg
4535
7
40kg
4542
7
40kg
4710
10
60kg
4715
11
80kg
4717
12
100kg
4815 Mild Steel
12
100kg
4815 Stainless
13
120kg
5315
13
120kg
Hinge Intumescent Requirements
Hinge intumescent requirement for use with 30 minute timber based doorsets

Model
Sizes
Intumescent Protection Required
4515
101mm x 73mm x 2.6mm
1mm Interdens
4535
101mm x 73mm x 2.6mm
1mm Interdens
4542
101mm x 90mm x 2.6mm
1mm Interdens
4710
85mm x 76mm x 2.6mm
1mm Interdens
4715
98mm x 84mm x 2.6mm
1mm Interdens
4717
98mm x 84mm x 3mm
1mm Interdens
4718
98mm x 84mm x 3mm
1mm Interdens
4815
102mm x 89mm x 3mm
1mm Interdens
4815R
102mm x 89mm x 3mm
1mm Interdens
5315
102mm x 76mm x 3mm
1mm Interdens
Hinge intumescent requirement for use with 60 minute timber based doorsets

Model
Sizes
Intumescent Protection Required
4515
101mm x 73mm x 2.6mm
1mm Interdens
4535
101mm x 73mm x 2.6mm
1mm Interdens
4542
101mm x 90mm x 2.6mm
1mm Interdens
4715
98mm x 84mm x 2.6mm
1mm Interdens
4815
102mm x 89mm x 3mm
1mm Interdens
5315
102mm x 76mm x 3mm
2mm Interdens
Hinge intumescent requirement for use with 120 minute timber based doorsets

Model
Sizes
Intumescent Protection Required
5315
102mm x 76mm x 3mm
N/A